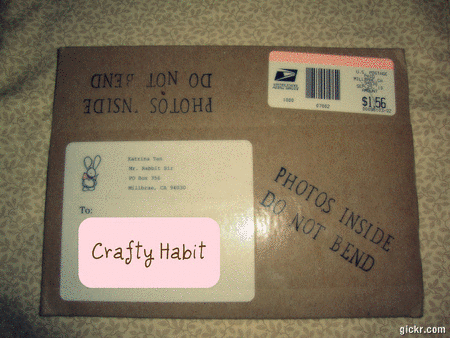 When I came across
PuglyPixel
, I fell in love immediately. It's such a great blog and had exactly what I needed. Pugly Pixel had both the doily and tape clip art I needed to make my
new
old blog header and it was free. How lovely and kind!
Katrina Tan is the author of a few blogs (3 total, I think) and they are ALL really great.
Then I noticed Katrina's Etsy shop and I had to visit. CUTE, CUTE, CUTE!!!!!!

I received my lovely print via snail mail. This snail was particularly special because it seemed as if he drank a red bull before coming over to my place. My lovely print was packaged in a sweet brown envelope with the cutest mailing sticker ever! I even received a gift from Katrina (thanks a bunch). It's a beautiful postcard which I plan to keep (I'm not mailing it to anyone, way too darn cute!).
Check out
PuglyPixel
and all that Katrina has to offer. After all, any blog "Powered by Pastries" can only be chock full of goodness.